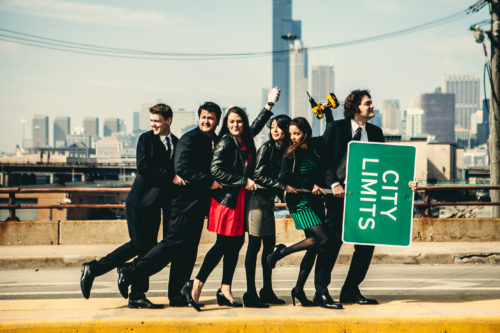 A sold-out hit in 2013, Chicago's legendary sketch and improv comedy theatre returns to
Harbison Theatre at Midlands Technical College
with "The Second City Hits Home," a new show featuring hilarious sketches, songs and improvisation about Columbia, South Carolina, as well as material from the famed Second City archives. This is a one-night-only parade of laughs featuring some of the country's brightest comedy stars on Friday, September 23, 2016 at 7:30 PM.
Doing what they do best, The Second City finds laughs in everything from Columbia's history, events, hot-button issues and local headlines and mixes them with a generous portion of classic sketch and improv created by some of Second City's most lauded alumni, including Tina Fey, Stephen Colbert, Steve Carell, Gilda Radner, and Bill Murray. Harbison Theatre executive director Katie Fox explains the decision to invite Second City back to give Midlands residents a hometown treatment.
"Those who came out for the Second City performance a couple of years ago might remember that as soon as the performers hit the punch line, the lights go out to move to the next sketch. What they don't know is that Columbia was the first show in history where a line given by an audience member got the blackout! If our town is that funny when we're talking off the cuff, imagine what the Second City team will come up with when they've had some time to REALLY study our ways."
In addition to the show, the cast members are offering improve comedy workshops for middle-school-aged improvisers, as well as a master class for adults. The workshops are $35 and are open to the public. Both the youth "Improv 101" and the adult advanced-improvisation workshops are on Thursday, September 22, 2016 at 6:30 PM. More information can be found at harbisontheatre.org/workshops.
Tickets are 75% sold out for this show, which is still more than a month away! For details and tickets click here.
Ticketing Details
Individual show tickets as well as packages are available now at www.HarbisonTheatre.org. Buyers may also order tickets via phone at 803.407.5011 or in person at the Harbison Theatre Box Office, Monday through Friday, 9 AM to 4 PM. The box office also will open two hours prior to each show.
About Harbison Theatre at Midlands Technical College
Rooted in the performing arts, Harbison Theatre at Midlands Technical College offers programs and productions that encourage reflection, examination and discovery; and that provide entertainment, education and opportunity to professionals, learners and community members in all stages of life. To learn about upcoming events, purchase tickets, or pursue sponsorship and volunteer opportunities with Harbison Theatre, please visit harbisontheatre.org.
Harbison Theatre on Facebook: facebook.com/HarbisonTheatre
Harbison Theatre on Twitter: twitter.com/HarbisonTheatre
About Midlands Technical College
Midlands Technical College (MTC) is a comprehensive, multi-campus, public, two-year college serving Richland, Lexington and Fairfield counties of South Carolina. The fifth-largest provider of higher education in South Carolina and the largest provider of transfer students to the University of South Carolina, MTC enrolls approximately 16,000 credit students annually. The college's Corporate and Continuing Education program, one of the largest and most comprehensive in the Southeast, annually has 25,000 enrollments and provides continuing education to hundreds of area businesses each year. midlandstech.edu