Are you interested in meeting the movers and shakers who lead Columbia's business community, learning about everything the Columbia region has to offer, and networking with interns and associates from companies across the area? If you are (or will be) an intern at an organization in the Columbia area in Summer 2022, Capture Columbia is for you! Presented by COR and the Midlands Business Leadership Group (MBLG), this is your chance to take a deep dive into the Cola community while building personal and professional relationships that can help you land a job and build a career.

WHAT
Capture Columbia is a program for summer interns and associates at companies in the Columbia area to take a deep dive into the community while building personal and professional relationships that will help them land jobs and build careers here. Presented by Columbia Opportunity Resource (COR) and the Midlands Business Leadership Group, Capture Columbia includes networking opportunities, speakers, professional development and special experiences throughout their summer in Columbia.
Capture Columbia will consist of five main events, with each featuring speakers on professional development and on the Midlands community, networking/social time and uniquely Columbian locations. Outside of these events, social and community service opportunities will be provided.
To graduate from the program, individuals must participate in at least four of the five events over the course of the summer, receiving a passport stamp at each. Participants should be sure to get permission from their employers and direct supervisors, as some events may fall within working hours.
WHO
If you're in an internship, associateship, apprenticeship, summer job, or other similar position with a company, organization, or government in the Columbia, SC region during the summer of 2022, you are eligible to participate in Capture Columbia! For the 2022 program, all interested individuals must complete the application to participate. In the event that spaces fill up, those interns from MBLG member companies will receive first preference.
WHEN
The first Capture Columbia cohort ran from June 22 through August 3, 2021. Events will be held roughly every two weeks, with community connection opportunities in-between. Events will be a mix of mornings and evenings, with limited spillover into working hours.
2022 Program Schedule
June 7 – Kickoff Meet & Greet at Savage Craft 5:00-7:00PM
June 14- Behind the Scenes at Bull Street + Columbia Fireflies Game 5:30-9PM
June 28- Explore & Restore our Rivers 8:30-10:00AM
July 12- Morning on Main Street 8:30-10:30AM
July 26- Discovering #RealColumbiaSC Districts 8:30-10:30AM
August 9- Graduation at Capital City Club 5:00-7:00PM
WHERE
Events will take place in unique locations throughout the Columbia, SC downtown and surrounding areas.
Check out scenes from our inaugural class of Capture Columbia 2021 on our Instagram @capturecolumbia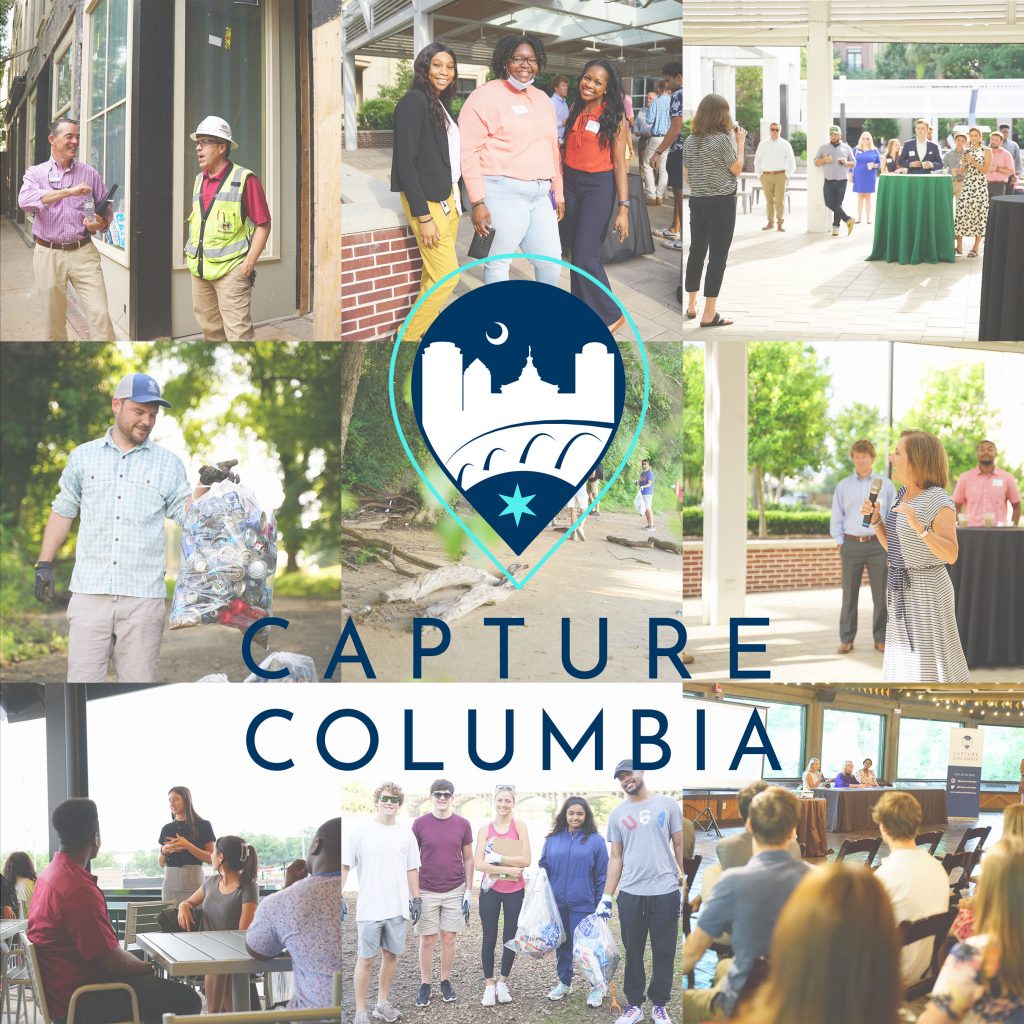 Are you a business or HR leader looking to attend events? Have questions about how your interns can participate? Contact the Capture Columbia team for more info on how your company can get involved at [email protected]
Powered by Columbia Opportunity Resource and presented by the Midlands Business Leadership Group.
Thank you to our program sponsor.