Are you interested in meeting the movers and shakers who lead Columbia's business community, learning about everything the Columbia region has to offer, and networking with interns and associates from companies across the area? If you are (or will be) an intern at an organization in the Columbia area, Capture Columbia is for you! Presented by COR and the Midlands Business Leadership Group (MBLG), this is your chance to take a deep dive into the Cola community while building personal and professional relationships that can help you land a job and build a career, and best of all it is free.

WHAT
Capture Columbia is a free program for all students and interns or associates at companies in the Columbia area to take a deep dive into the community while building personal and professional relationships that will help them land jobs and build careers here. Presented by Columbia Opportunity Resource (COR) and the Midlands Business Leadership Group, Capture Columbia includes networking opportunities, speakers, professional development and special experiences throughout their summer in Columbia.
WHO
Any college-age student in the greater Columbia area can register  for Capture Columbia for any event.  Employers can also nominate applicants to participate through the registration form. 
WHEN
From October 19–November 9, Capture Columbia will convene on Wednesday evenings from 5–7PM for networking, professional development and insider experiences at different locally loved locations across the greater Columbia region. The free program provides opportunities to meet community leaders and power players, from government leaders to C-suite executives of companies with strong internship or entry-level job programs.
BullStreet Bash, October 19 – Kickoff at Segra Park with city leaders for an exclusive update on burgeoning developments within the BullStreet District. Refreshments will be provided along with behind-the-scenes access to the Columbia Fireflies.
Main Street Mingle, October 26 – Starting on Boyd Plaza, participants will split into smaller groups for a walking tour of the Main Street District, meeting business owners and exploring historic sites along the way. Local eats will be provided.
WeCo Walkabout, November 2 – Meet the people behind the restoration, upkeep and development progress happening across the region's three rivers. Learn how to access our rivers as we walk through the growing river district and West Columbia. The event concludes with refreshments at Savage Craft Brewery.
Capture Columbia Celebration, November 9 – Capture Columbia will conclude with a networking power session at City Market in the Vista featuring a panel of community leaders where great ideas and positive energy will fill the room. All participants will be honored with a special commemoration.
Capture Columbia's inaugural year was led by MBLG and welcomed 75 students to five events throughout the summer of 2021. The program is free thanks to COR's strategic partner Experience Columbia SC and annual partners Nephron Pharmaceuticals, First Citizens Bank, BlueCross Blue Shield SC, Aflac, First Community Bank, Khan Development Group, Rhodes Graduation Services Inc, Chernoff Newman, Colliers, Adams and Reese, and The Night Foundation.
WHERE
Events will take place in unique locations throughout the Columbia, SC downtown and surrounding areas.
Check out scenes from Capture Columbia on our Instagram @capturecolumbia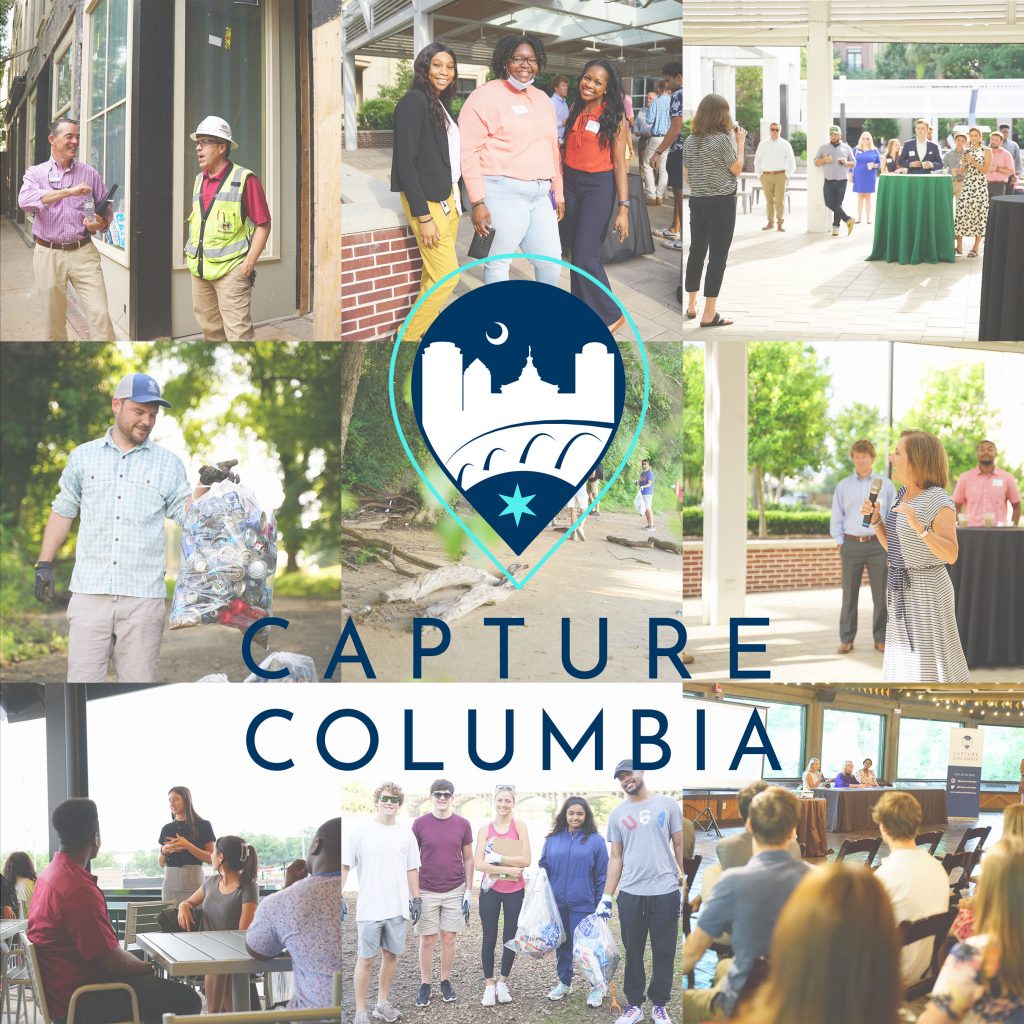 Are you a business or HR leader looking to attend events? Have questions about how your interns can participate? Contact the Capture Columbia team for more info on how your company can get involved at [email protected]
Powered by Columbia Opportunity Resource and presented by the Midlands Business Leadership Group.
Thank you to our program sponsors.