Reviving the Long-Lost Food History of the Midlands with Motor Supply Executive Chef Wes Fulmer and Dr. David Shields at Historic Columbia on April 8, 2016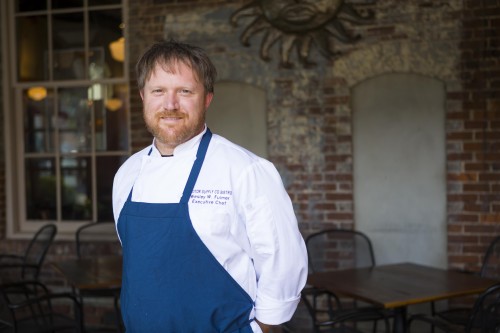 Long-forgotten historic ingredients of the Midlands region will be revived – and served to guests – at a garden reception on Friday, April 8, 2016, thanks to a unique partnership between Historic Columbia Foundation; Motor Supply Co. Bistro Executive Chef Wes Fulmer; and Dr. David Shields, McLintock Professor of Southern Letters at USC, chairman of the Carolina Gold Rice Foundation, and chair of the Slow Food USA Ark of Taste Biodiversity Committee for the Southern Region.
Historic Columbia's 2016 Gardening Symposium, "Redefining the Southern Garden: Past, Present and Future," will begin with a Friday evening keynote by Dr. Shields, followed by a reception featuring heavy hors d'oeuvres by Chef Fulmer at the Robert Mills Carriage House in downtown Columbia, S.C. on April 8 at 6:00 p.m.
One of the most prominent culinary historians in the country, Dr. Shields is the author of Southern Provisions: The Creation and Revival of a Cuisine, a 2015 book praised by Southern food celebrities like Chef Sean Brock and author John T. Edge.
Well known for his culinary detective work to hunt down long-lost heirloom varieties like the recently resurrected Bradford watermelon and the soon-to-be-replanted Hick's Mulberry, Shields will deliver a keynote address, "The Revival of the Carolina's Greatest Fruits and Berries." Shields will discuss the foods and food traditions of our past, noting what is being done today to revive them.
Following the keynote talk, Chef Fulmer will provide heavy hors d'oeuvres – inspired by the historic, regional ingredients and preparation methods discussed in Dr. Shields' book – for a garden reception and book signing of Southern Provisions from 7:00 to 8:30 p.m.
"It is such an honor to collaborate with an esteemed foodways scholar like David Shields," says Chef Fulmer. "We are grateful to Historic Columbia Foundation for shining a spotlight on such an important topic as the near-forgotten, heritage foods of our region and state."
Learn more and buy tickets online at http://www.historiccolumbia.org/events/2016-gardening-symposium-keynote.
Born and raised in Prosperity, S.C., Chef Wesley Fulmer took the helm at Motor Supply in Spring 2014 and has since led the farm-to-table bistro to garner all three major local readers' choice awards for "Best Restaurant" in 2015 (The State, Free Times and Columbia Metropolitan Magazine). After honing his craft in the James Beard Award-winning kitchens of celebrity chefs John Besh (Restaurant August, New Orleans) and Susanna Foo (Susanna Foo, Philadelphia), Fulmer served as Sous Chef at the luxe Atlantic Room at the Kiawah Island Golf Resort. In Spring 2015, Chef Fulmer was selected as the sole chef for Discover SC's biannual media event in New York City, and in Fall 2015, Chef Fulmer was featured in a segment of the Travel Channel UK television show, "Jeni and Olly's Deep South Food Adventures."
"Redefining the Southern Garden: Past, Present and Future," spans April 8 and 9, 2016, and includes hands-on gardening workshops, an heirloom seed swap, scientific-quality pressed plant specimen sale, and tour of University of South Carolina's historic Horseshoe. For more information about Historic Columbia's 2016 Gardening Symposium, visit http://www.historiccolumbia.org/events/2016-gardening-symposium-keynote.
About Motor Supply
Known for its artisan cocktails, refined yet relaxed atmosphere and daily-changing, chef-driven menu of sustainable, farm-to-table fare, Motor Supply Co. Bistro has been serving New World, made-from-scratch cuisine in the historic Columbia, S.C. Congaree Vista since 1989. A new, temperature-controlled outdoor patio features tables made from reclaimed, N.C. barn wood, roll-up garage doors and original, vintage brick. Reservations can be made by calling (803) 256-6687 or by visiting www.motorsupplycobistro.com.
Website: www.motorsupplycobistro.com
Facebook: www.facebook.com/motorsupply
Twitter: @motorsupply
Instagram: @motorsupply
Contact:        Chloe Rodgers, Flock and Rally, 843.230.1611, [email protected]
Tracie Broom, Flock and Rally, 415.235.5718, [email protected]