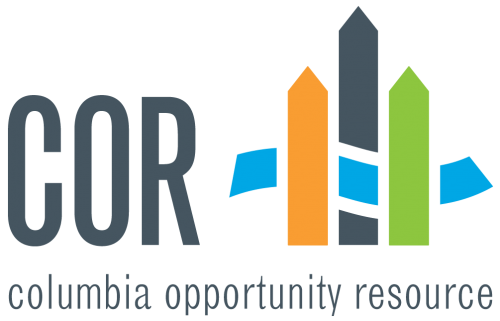 During this crisis, our professional lives have been turned upside down. Remote meetings, no business travel, and fewer opportunities to network. Even though we are not able to connect in person at COR, we decided to call in some experts to discuss how you can continue to succeed and grow professionally during COVID-19. Our panelists are movers and shakers from around the Midlands. Even while they work from home, they continue to make an impact.  We were joined by: 
Milo Anderson, Conservation Communications Manager, Riverbanks Zoo and Garden

Hannah Brachte, Co-Owner of Studio Fire Yoga & Barre Studio

Tracie Broom, Co-Founding Partner, Flock and Rally

Mario Melendez, Field Director and Financial Advisor for Northwestern Mutual

Megan Pinckney, Digital Content Producer and social influencer @shadesofpinck
Managing work-life balance (now that work and life are both at home) 
As many of us work remotely, one of the first issues we tackled was how to manage the work-life balance now that our homes have become offices.
Though there is not a one-size-fit-all answer, this time provides many of us an opportunity for increased flexibility. For example, exercising in the middle of the day is now possible instead of only having that time in the morning or evening.
 Motivation and scheduling can be a challenge with kids at home, a roommate or partner also working remotely, or simply adjusting to no longer having a commute. Our panelists agreed that all of us should try to take a step back. Keep a check on your mental health and how you are handling this difficult time. Maintain a routine. Even if you're no longer making the drive-in on I-26, you can continue to exercise, make that morning cup of coffee, or whatever you do to get your workday flowing. Continue to check-in with your team as if you were in the office. If you manage others, consider offering "office hours" so your employees can ask questions at designated times during the day. 
Tips and tools to get the job done remotely 
COVID-19 has created a crash course in productivity hacks. We asked our panelists, which tools have helped you and your teams manage the change in workflow?
Video technology was by far our panelists' most popular answer. By now, we're all pretty familiar with Zoom meetings and webinars. But what other tools have our panelists used? Zoom may not be the best option for your team, so our experts suggested checking out GoToMeeting or Whereby. RingCentral and Join.Me are also great options. If you interact with your followers on social media, consider utilizing Facebook's people power through their live stream function.  
Defining success during a pandemic 
We all have goals and ambitions, and it may feel that our pursuits have been interrupted. How should we define success during this time? 
Our panelists work in a variety of industries, each with different challenges. One of the best responses was to step up and take action. Sitting around and waiting for this to be over is not an option. Success is defined differently for each individual, but during this time we can frame simply having health and family as a triumph. 
How to maintain good habits we've developed during quarantine 
One day (hopefully very soon) all of these social distancing measures will come to an end. What should we do once we transition to a more normal life? 
Exercise. There's a clear connection between your physical and mental health. Many people are going on walks, biking, or just getting outside for a break from being in their home. It's important to continue this even as we establish a new normal. 
Practice acceptance. Many of our circumstances are beyond our control. Use this time to learn to manage the situation you're facing. 
Try something new. If you've always wanted to play the oboe, this may be your time to learn!  
While at home, this can be the perfect opportunity to take a step back and do something you've always wanted to try. Maybe that's learning an instrument, starting a podcast, or writing. Take time to enjoy the moment and possibly discover a new passion! 
Adapting your business strategy 
For entrepreneurs and managers, how does our business strategy have to change? 
We had lots of great answers here and they all have a similar theme: be kind and take care of your people. "Pivoting" is a popular term right now and our panelists believe it's necessary. It could take a shift in your business model to stay relevant and engaged with your customer base. Help clients with unforeseen problems. If you're publishing content, keep it lighthearted and creative. Lead your team with compassion, take a breather, and give employees a break. No one has the perfect answers to manage this crisis; it's a challenge for your team in many different ways. 
Staying connected 
One of COR's main objectives is to connect people in the Midlands. How can you do that during COVID-19? One of the first steps is to be genuine. Remember that we're all human beings with lives and loved ones outside of our professional setting. Call up your contacts; not to make a sale or close a deal, but simply to check-in and see how they're doing. Support our local businesses and utilize digital tools to stay connected with friends and family. 
Speaking of supporting local..
Small businesses and restaurants need us more than ever. In what ways can we support them? 
Lunch dates! (Even if it's in your car). Our panelists said they were grabbing a local beer and having socially distanced happy hours in their yards. They're also supporting local restaurants through takeout and curbside service. Many nonprofits are suffering during this time and our panelists are giving back, especially via Midlands Gives. 
Stay plugged in by checking out experiencecolumbia.com for special COVID-19 virtual events. Many of the local districts (Five Points, The Vista, Main Street) are posting socially distanced activities in their area. And check out Facebook groups like Columbia Curbside for local restaurant options. 
Taking care of our mental health
This one is important. How can we stay on top of our mental health during this period of uncertainty and isolation? 
It's important to stay in check with our emotions. They can be a roller coaster when faced with a lot of uncertainty. Do what you need to do to maintain some balance and manage the lows. When you wake up in the morning, practice being grateful. Pick three things you're thankful for and say them out loud. This can make a huge difference in the emotional swings you may experience throughout the day. 
Working from home after we go back to the office 
And finally: if you want to keep working from home, how do you pitch that to your boss? 
Show data. Demonstrate how you and your team have been more productive since moving to remote work. And expect a shift in workflow for everyone going forward. 
Until next time! 
We had a great time sitting down with our panelists and discussing how we can continue to succeed during tough times. We can't wait to see you in person at the next COR Connections or Table for Six. If you didn't get a chance to catch this virtual happy hour live, you can rewatch it here.