Tuesday night, we gathered at the Columbia Metropolitan Convention Center to discuss the growth of the Vista, one of Columbia SC's beloved and fastest growing districts.
Meet the panel: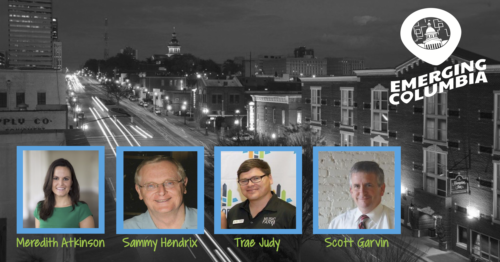 Here's a breakdown of what we heard:
The Vista:
is only 4 square miles of the City of Columbia YET….
has over 80 restaurants which…
generate over $88 million in food and beverage sales each year and….
is home to 8 hotels operating at 75% occupancy or higher while….
providing citizens with public commissioned pieces of artwork to enjoy – like the new "Curtis & Bob" piece that was announced last week!
Yet, all the panelists agree there is much we can do to prepare for and propel the expansion that will take the Vista to the next level, including;
connecting the arts & entertainment district to the river and Main Street,
expanding the convention center (93% of the business they turn down is because they're the smallest convention center in SC),
develop parking while motivating people to use the existing infrastructure.
Check out our other
upcoming events
and stay tuned for our next #EmergingColumbia!