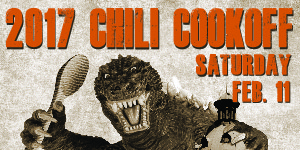 Enjoy all you can eat and drink, live music and #GodzillaChili
 COLUMBIA, S.C., Tuesday, Feb. 7, 2017 —Bring your appetite to The Palladium Society's 19th annual Chili Cookoff from 5:30 to 8 p.m. this Saturday, Feb. 11 at the Music Farm Columbia located at 1022 Senate St. Hosted by Historic Columbia's The Palladium Society, the Chili Cookoff is an annual fundraiser that brings local cookers together under one roof to compete for the best chili in town.
The event will feature a variety of all you can eat chili recipes cooked by local cookers and restaurants, judging by local celebrities, cash prizes for the winners of the cookoff and live music from two Columbia bands, the Kenny George Band and the Nick Clyburn Band. In addition, tickets include an open beer and wine bar.
"We are gearing up for our Palladium Society's 19th annual Chili Cook Off with a great line up of music, chili and beers," says Lauren Dillon, member of Historic Columbia's Palladium Society and co-chair of the Chili Cookoff committee. "Come out to see if you can take the heat and who will walk away with the Godzilla Thrilla' award."
Advance tickets to the Chili Cookoff are $25 for Palladium Society members, $30 for Historic Columbia members and $35 for the general public, and all tickets sold at the door will be $45. For the first time, limited VIP tickets are also available. Advanced tickets can be purchased online at historiccolumbia.org/chili, by phone at 803.252.7742 ext. 15 or by email at [email protected] now through Friday, Feb. 10 at 3 p.m. In addition, tickets are being sold at Bottles, located at 4410 Fort Jackson Blvd., through Saturday, Feb. 11. All proceeds from this event benefit Historic Columbia.
The Chili Cookoff is brought to you by W.B. Guimarin & Co.; The Landbank Lofts; Palmetto Decorators; Bonterra; Bottles Beverage Superstore; The Boudreaux Group; Bowman and Brooke LLP; Chernoff Newman; Coldwell Banker – Lauren Gilstrap; David J. Watkins II, CPA; Dillon Construction Services; First Citizens Bank; Free Times; Grace Outdoor; Hoffman & Hoffman, Inc.; The Inn at USC Wyndham Gardens; Landmark Builders; The Mad Platter; The Moore Co.; The Mortgage Network Inc. – Clint Hammond; Ole Timey Meats; Party Reflections; Palmetto Health; Quackenbush Architects and Planners, LLC; Willoughby & Hoefer, PA; Dave & Buster's; Giles Insurance Agency; Lambert Architecture & Construction Services; and Rogers, Townsend & Thomas, PC.
About The Palladium Society:
The Palladium Society is a dynamic group of young professionals who support the mission of Historic Columbia through education, social and fundraising initiatives. Members have the opportunity to network with other like-minded young professionals, volunteer at exciting Palladium events, hold leadership positions and attend many events for free or discounted admission.
 About Historic Columbia:
In November 1961, a small group of individuals intent on saving the Ainsley Hall House from demolition officially incorporated as the Historic Columbia Foundation. Over the next five decades the organization, which was founded on the premise of preservation and education, would take on the stewardship of seven historic properties in Richland County. Today, the organization serves as a model for local preservation efforts and interpretation of local history. Visit historiccolumbia.org or find us on Twitter, Facebook, Instagram or YouTube for more details.