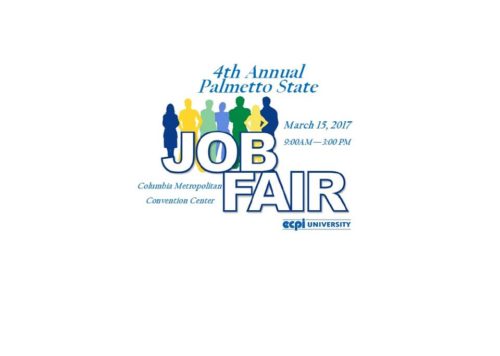 The 4th Annual Palmetto State Job Fair is March 15, 2017- here in the midlands! This is the largest professional job fair in all of South Carolina.
For a 4th year in a row, the SC Midlands Job Fair has been a community event developed by a collaborative effort of nine Midlands area Chambers of Commerce and ECPI University. This event has proven to enhance the rapidly growing workforce of South Carolina and connect professional job seekers to South Carolinian employers.
This year's event is once again being held at the Columbia Metropolitan Convention Center on Lincoln Street- in the heart of the Vista.
Last year's event included 106 employers from across South Carolina and drew over 2,000 job seekers! This year we have room for up to 125 employers and are projecting job seeker attendance of over 3,000!
Once again, we've been able to keep the cost for employers to just $180.00 for the day. This cost includes your 6 foot skirted table, two chairs, and lunch for two company representatives. All you will need to do is bring your marketing SWAG and set up your table.
If your table should need electricity, you can purchase this service directly from the venue at an additional cost.
Be sure to register early as tables for this event fills up very quickly!
This Non-Profit Professional Hiring event is open to the public and is free for all job seekers.
Click here to connect on Facebook!