A recap of ACTIVATE by COR Member, Cliff Yang.
We had a great time outdoors this past Tuesday on the back patio at Publico Kitchen + Tap.  The evening started out well and with clear skies, the sun went down as the night continued and more shade began covering the area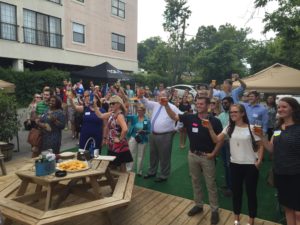 we were in.  There were many things going.  People were playing ping pong under a tent and other groups had corn bags flying in the air as people played corn hole with their colleagues and new friends.
There were many people from a different companies around Columbia at the event.  People from the Columbia Fireflies to non profit fundraisers to different levels of USC staff. 
Total Quality Logistics
had their own tent around the social area.
There were lots of different folks with all kinds of drinks.  Publico has a large variety of craft brews.  I enjoyed a a River Rat Hazelnut Brown and a modified mojito that they serve out of a mason jar.  They had a very nice presentation from great view from their inside out to the Five Points Fountain.
There were chips and salsa platters close by to snack on if you got hungry while chatting.  You can tell Publico has a very unique flavor and style that has a new and bold feeling. It is great place to try something different.
Overall it was a great time and I think the event really showed what COR is about. Non members got a chance to see what COR can bring to the community and current members had the opportunity to grow with one another and catch up with friends.
Don't miss the next ACTIVATE and your chance to connect & find your place to make a difference in the Midlands!