For this Summer's SCANPO Midlands Member Gathering, they are partnering with i3, the Innovative Intervention Incubator, for a fun exercise in exploring big ideas and making new connections. i3 comes highly recommended from a number of our Midlands-area members for their fun approach to group decision-making processes, and feel this collaboration will bring you a chance to learn new group facilitation skills to take home to your organization! They're calling it:
"Welcome to My Columbia"
At this free, innovative event, our community's leaders from the nonprofit, business, and academic sectors will explore, collaborate, and learn from one another as they think creatively and boldly about Columbia's future. Light refreshments will be provided.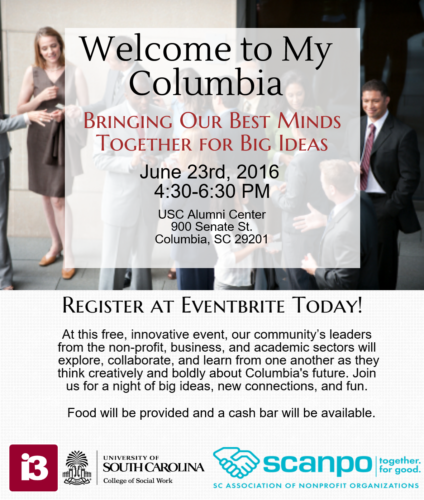 What does the Innovation Intervention Incubator do?