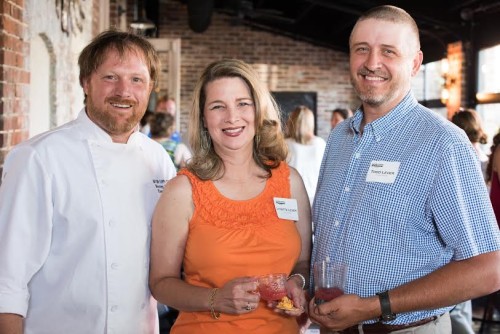 Join Motor Supply Co. Bistro and local farmers during the farm-to-fork restaurant's signature annual event, Harvest Week!
Harvest Week will take place from June 7th to June 12th! Harvest Week will feature an especially innovative, hyper-local dinner menu each evening by Chef Wes Fulmer and an imaginative cocktail list by Head Barman Josh Streetman.
Kick off Harvest Week with Meet the Farmer Happy Hour on Tuesday, June 7 from 5:30-7:00 p.m.! It will be a mixer with local growers whose products are featured on Harvest Week menus and in Motor Supply's dishes year-round; featuring cash bar and complimentary special treats from a local purveyor.
Wine from "Farms, not Factories"
Harry Root, President of Grassroots Wine, will be on-site at Motor Supply during Meet the Farmer Happy Hour to offer guests a variety of sustainably-produced wines for tasting. Root – who travels the world in search of the finest farmer-produced wines – has been working with Chef Fulmer to curate a wine tasting that will best complement the Harvest Week dinner menu.
Grassroots Wine will be featured on the Harvest Week dinner menu throughout the week in recommended pairings, courtesy of Root and Stephanie Heikila, general manager and wine director at Motor Supply.
Harvest Week 2016 Farms; "Sneak Peek" of Menu
Chef Fulmer will present a Harvest Week menu with locally-sourced ingredients from more than a dozen sustainable Midlands farms and local purveyors – constructed with advanced culinary techniques honed under James Beard award-winning chefs – available each night, June 7-12. Reservations recommended; dishes subject to change.
Bowers Farm | organic livestock farm in Pomaria, S.C.
Bower's Farm roasted pulled chicken with ricotta spoon bread, tomato and okra stew, crispy okra croutons [entrée]
Cabin Branch Organic Farm | organic farm in Columbia, S.C.
Spring vegetable Carolina Gold fried rice with local charred green onion, bell peppers, sweet green peas, Wil-Moore Farms egg, Cabin Branch Organic Farm bok choy, bourbon barrel-aged Nước chấm [entrée]
Carolina Heritage Farms | heritage pork from Pamplico, S.C.
Carolina Heritage Farms pork belly agnolotti with local sweet peas, charred green okra, grape tomatoes, shaved Grana Padano, smoked ham hock broth[first course] 
Congaree Milling Company | organic grain milling company in Columbia, S.C.
Wild caught Beaufort white shrimp with Congaree Milling Company red hominy, braised fennel, local bell pepper tomato broth [entrée]
Derrick Gunter | award-winning heirloom tomatoes from Pelion, S.C.
Derrick Gunter's heirloom tomatoes "three ways" with bacon tomato pie, gazpacho shooter, marinated tomato salad with house mozzarella and vincotto [first course]
Floral and Hardy Farm | naturally grown, fresh-cut flowers from Lexington, S.C.
Freshly Grown Farms | hydroponic greens grown in Columbia, S.C.
N.C. crispy oysters, Freshly Grown Farms greenhouse-grown romaine, shaved red onion, local grape tomato, smoked cucumbers, house "Goddess" dressing[salad]
Hanna Hands Farm | rabbit farm in Ridgeway, S.C.
Stuffed rabbit with Silver Queen corn pudding, house prosciutto, local boiled peanut succotash, S.C. honey Agrodolce [entrée] 
Heather's Artisan Bakery | fresh bread baked in Cayce, S.C.
Lever Farms | strawberry and vegetable farm in Pomaria, S.C.
Trail Ridge Farm and Dairy | family-owned dairy farm in Aiken, S.C.
Local arugula, Lever Farms strawberries, Trail Ridge Farms goat feta, Celia's cherry belle radish and roasted baby beets, smoked almonds, pickled green strawberry vinaigrette [salad]
Watsonia Farms | organic produce from multi-gen family farm in Monetta, S.C.
Watsonia Farms kale, house Guanciale, local butterbeans, Grana Padano, truffle caper vinaigrette, Wil-Moore Farms slow cooked egg, crispy Palmetto sweet onions [salad] 
West Ridge Farms | hormone-free, grass-fed beef from Little Mountain, S.C.
West Ridge Farms grass-fed carpaccio with charred green garlic, roasted turnips, local arugula, horseradish, ice wine vinegar [first course] 
Wil-Moore Farms | free-range poultry & grass-fed beef from Little Mountain, S.C.
A cult-favorite event among foodies and curious culinary novices alike, Harvest Week is an annual celebration of Motor Supply Co. Bistro's commitment to honoring sustainable, S.C.-fresh ingredients and the farmers that supply them. The weeklong festivities strive to bring awareness to the value of small, local and sustainable Midlands farms, while creating enticing, limited-edition dishes for attendees.
About Motor Supply
Known for its artisan cocktails, refined yet relaxed atmosphere and daily-changing, chef-driven menu of sustainable, farm-to-table fare, Motor Supply Co. Bistro has been serving New World, made-from-scratch cuisine in the historic Columbia, S.C. Congaree Vista since 1989. A new, temperature-controlled outdoor patio features tables made from reclaimed, N.C. barn wood, roll-up garage doors and original, vintage brick. Reservations can be made by calling (803) 256-6687 or by visiting www.motorsupplycobistro.com. 
Facebook: www.facebook.com/motorsupply
Twitter: www.twitter.com/motorsupply | #harvestweek
Instagram: www.instagram.com/motorsupply | #harvestweek
Contact: Chloe Rodgers, Flock and Rally, 843.230.1611, [email protected]
Come on out to 920 Gervais St. Columbia, S.C. 29201 to enjoy the festivities!