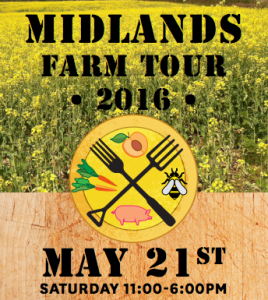 The 2016 Midlands Farm Tour  hosted by the Sustainable Midlands Food Alliance is Saturday, May 21st from 11-6pm, and 50 volunteers like YOU are needed to make this event possible.  It's so fun and easy!  The farmers will be busy conducting tours, so we need volunteers at every farm to check in guests, sell passes, and act as friendly ambassadors.
There are two volunteer shifts: 10:30 – 2:45 & 2:30-6:30. You'll receive a pass to check out other farms on the tour when it's not your shift!
All official volunteers will be invited to the Farmer Potluck on May 12th at Mercer House Estate Winery and also receive a wonderful, all new farm tour t-shirt. There will be a volunteer training a week prior to the tour.