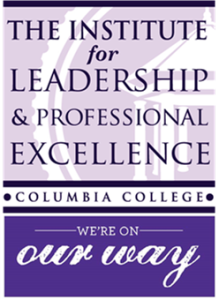 Do you want to step up your leadership skills? Would helping someone to develop their own personal skills give you a lift? Would you like to rise in your own career? If you said "YES!" to any of these questions, then we have an opportunity for you to CLIMB!
As a COR member, we know you are passionate about giving back, developing talent and helping others to succeed.  One of the easiest and most rewarding ways to do just that is to mentor and share what you have learned in career and life with another.
Columbia College has had a formal mentoring program (CLIMB) that pairs its Women's College students with Midlands area professional women for many years.  In 2013, the college made this program an integral and mandatory part of each student's experience.
Currently, we are actively looking for additional mentors; women who are willing to share the zig zags of their careers, to help guide young women as they begin their undergraduate journey, and to become a person of influence in a young woman's life.
This program is easy to join and participate in – 5 hours a semester is the relationship goal.  Some face to face, a bit texting and calling will get the job done and add immeasurable benefit to both the student and to you. A few of the benefits are listed below and we encourage you to put your own spin on it!
Mentor Benefits 
Personal and professional growth and development
Enhancement of coaching, leadership, teaching and communications skills
Personal satisfaction by helping a student develop professional skills
Exposure to new ideas and perspectives
Exposure to the emerging talent pool
Mentee Benefits  
Develop contacts and create a network with local business people and Columbia College graduate
Increase confidence and preparation for the workplace environment
Learn to set goals and achieve personal objectives
Opportunity to discuss challenges and receive advice from experienced professionals
Develop a relationship with a trusted advisor and role model who can provide feedback
We are so grateful for our existing 300+ mentors and need more as we continue to enroll bright young students! If you are a professional woman and want a rewarding opportunity, we hope you consider supporting this program to help our students CLIMB!
For more information about the Columbia College Mentoring Program click here or contact Mary Beard at [email protected].
If you are ready to serve with us, please click on the link here and complete the information which will aid us in the matching process.
Check out the CLIMB program brochure here: