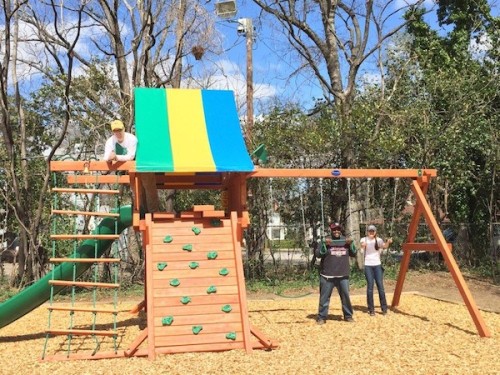 The Leadership Columbia Class of 2016 will host an Open House at the Autism Academy of South Carolina (AASC), 1505 Blanding St. in downtown Columbia, S.C., for AASC families, staff and supporters and members of the public Friday, April 29, 2016, from 5:30-7:30 p.m.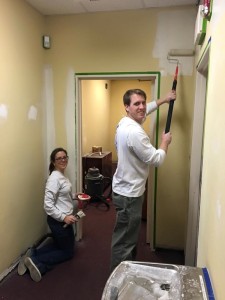 The Open House event will serve as a "Renovation Reveal," an unveiling of the workLeadership Columbia Class of 2016 members have executed within the interior and exterior of AASC's building over a four-month period, and a cocktail reception. Nationally-recognized local musician Darryl Izzard will perform live; Lorri Unumb, AASC co-founder and national autism awareness advocate, will speak; and guests will enjoy hors d'oeuvres and beverages by Southern Way Catering and Carolina's Rigging; décor by Party Reflections and additional event support by Ogletree, Deakins, Nash, Smoak & Stewart, P.C.
Members of Leadership Columbia Class of 2016 will lead tours of the newly renovated facility, complete with "before and after" photographs. AASC staff, families, board members, friends and supporters; members of the public and sponsors of Leadership Columbia Class of 2016's project will mingle with the founders of AASC, Columbia Chamber leadership and members, and Leadership Columbia members and alumni.
Members of the public who would like to attend the Open House must register online at http://columbiasc.chambermaster.com/events/details/autism-academy-of-sc-open-house-5773.
The Open House event caps Leadership Columbia Class of 2016 and AASC's partnership,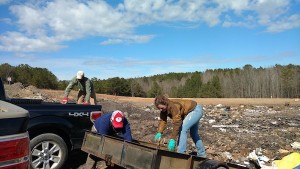 which began in January 2016 when the Class selected AASC as the subject of their class project, after recognizing the value and realizing the great needs of the local nonprofit.
AASC's headquarters suffered years of water damage, resulting in many unusable spaces within the building due to its state of disrepair. In October 2015, the devastating S.C. floods caused further damage and severe water intrusion – so much so that classes and therapy sessions were forced to temporarily relocate to a nearby church basement. For the renovation leg of Leadership Columbia Class of 2016's project, class members renewed and enhanced over 5,000 square feet of classroom space and 5,500 square feet of exterior green space at AASC, transforming the spaces into clean, safe and accessible learning environments.
The marketing, organization and event planning leg of the Class' project aided AASC in its annual Autism Awareness Month events in April – including dyeing Columbia's iconic Five Points fountain blue to hosting a "Blue Bash & Dash" family fun run to the new Spirit Communications Park – and provided AASC with reusable marketing materials including graphics and online real estate accounts; social media efforts and a PR campaign resulting in successful media coverage. The Open House concludes this leg of the Class' project.
About the Autism Academy of South Carolina
The Autism Academy of South Carolina is a 501(c)(3) nonprofit organization offering individualized Applied Behavior Analysis (ABA) therapy to children and adolescents with autism spectrum disorder, as well as parent training, school consultation, social skills groups and summer camps. AASC was founded in 2010 by local concerned parents Dan and Lorri Unumb, fellow Autism Spectrum Disorder-affected families and professionals as a response to the rapidly growing need for autism spectrum disorder resources and support in South Carolina. www.autismacademyofsc.com
Facebook: www.facebook.com/Autism-Academy-of-South-Carolina-126106320762338
Twitter: @AutismAcademySC
Instagram: @AutismAcademySC
About Leadership Columbia
Leadership Columbia is a Columbia Chamber program that recognizes emerging and existing community leaders who hold potential to move Columbia, S.C. forward, offering them a unique opportunity to grow professionally and personally among likeminded individuals. Over a period of 10 months, more than 50 Class of 2016 participants take part in one class retreat, 10 leadership sessions and a hands-on class project. The program, founded in 1973, has graduated more than 1,600 professional alumni across the country. www.columbiachamber.com
Facebook: www.facebook.com/LeadershipColaSC
Twitter: @Leadership_Cola
CONTACT:
Leadership Columbia Class of 2016 | Public Relations Committee
Chloe Rodgers, [email protected], 843.230.1611
Leadership Columbia | Director of Communications and Leadership Development
Elizabeth Cardell, [email protected], 803.733.1152
Autism Academy of South Carolina | Nonprofit Director
Anne Marie Green, [email protected], 803.727.4897