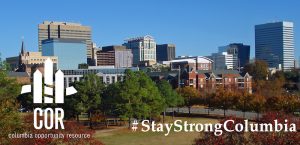 Where to Donate (Time or Money)
Note: Some of the above organizations may have too many volunteers and others not enough. Please contact them to see where help is needed most. Thank you!
Water Distribution Centers Around Columbia 
All centers open from 8:30am to 6:00pm
Columbia Metro Convention Center – 1101 Lincoln Street
Walmart – 5424 Forest Drive
Lower Richland High School -2615 Lower Richland Boulevard
Landmark Drive – 3700 Landmark Drive near the Richland Mall
Former Sam's Club Parking Lot – 1401 Sunset Drive
Dutch Square (former Belk parking lot) – 421 Bush River Road
Midlands Shopping Center  – 2638 Two Notch Road
Eastover Park – 1301 Main Street, Eastover
Gadsden Community Center – 1660 South Goodwin Circle, Gadsden, SC
Important Websites
Need Assistance?
Boiling Water Tips
What to do and not do when under a boil water advisory
Bring water to a rolling boil for a minimum of one minute
Don't use tap water for:

Drinking/Consumption
Ice/Ice Machines
Baby's Formula
Pet's Drinking Water
Brushing Teeth

Safe to use tap water for:

Bathing
Laundry
Washing Clothes
Watering Grass/Plants