A unique dinner connecting aspiring leaders
with seasoned executives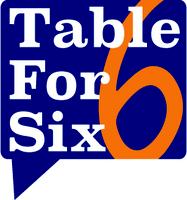 Table for Six (TF6) is a unique networking event that connects experienced executives with emerging leaders in the community. Instead of the usual, stuffy networking event, TF6 takes place over dinner to facilitate open and free conversation, Q&A and relationship building.
TF6 is a key part of COR's efforts to attract and retain top Midlands talent by providing opportunities for young professionals to gain leadership exposure and experience.
>> Read bios of executive mentors from previous events.
Dine with us on November 5 at Liberty Tap Room
>> Click here to reserve your seat!
TF6 All-Stars features hosts who were COR's charter members. These host continue to promote and retain talent in the Columbia region even after their official service to the organization ended. Each host has a passion for COR as well as the Columbia Community and will be sharing their expertise with attendees.
Join us to dine with the following executives:
John Adams, Sales Agent at Coldwell Banker United Realtors
Tameika  Isaac Devine, Councilwoman for The City of Columbia
Deepal Eliatamby, President of Alliance Consulting Engineers, Inc.
Anita Garrett, Chief Strategic Officer of The Weather Group
Ryan Hyler, Business Development at LandmarkBuilders
Keely Saye, Director of Inbound Marketing at Riggs Partners
Thanks to the following sponsors for making this event possible: