A unique dinner connecting aspiring leaders
with seasoned executives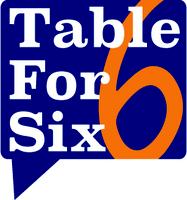 Table for Six (TF6) is a unique networking event that connects experienced executives with emerging leaders in the community. Instead of the usual, stuffy networking event, TF6 takes place over dinner to facilitate open and free conversation, Q&A and relationship building.
TF6 is a key part of COR's efforts to attract and retain top Midlands talent by providing opportunities for young professionals to gain leadership exposure and experience.
>> Read bios of executive mentors from previous events.
Dine with us on May 9
Our next Table For Six Networking Dinner is coming up on May 9 at Hay Hill Garden Market.
Participating executives include:
David Campbell, President & CEO – Chernoff Newman
Kelly Davis, Founder & CEO – Davis Public Relations and Marketing
Dana Bruce Fulmer, Executive Director – Juvenile Diabetes Research Foundation
Will Johnson, Partner – Haynsworth Sinkler Boyd
Wes Lyles, President – Studio 2LR Architecture & Interiors
Find out more about our executives here.
COR members can find member discount codes here.