A unique dinner connecting aspiring leaders
with seasoned executives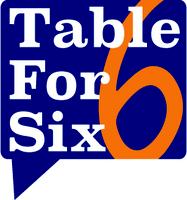 Table for Six (TF6) is a unique networking event that connects experienced executives with emerging leaders in the community. Instead of the usual, stuffy networking event, TF6 takes place over dinner to facilitate open and free conversation, Q&A and relationship building.
TF6 is a key part of COR's efforts to attract and retain top Midlands talent by providing opportunities for young professionals to gain leadership exposure and experience.
>> Read bios of executive mentors from previous events.
Dine with us on September 24 at Harbison Theatre
>> Click here to reserve your seat!
Interested in nonprofit and board service? This is the TF6 for you! Dine with Columbia's top nonprofit executives, enjoy entertainment from musical entrepreneurs Brooklyn Rider, explore MTC's Harbison Theatre and dine on delicious cuisine from Ms. B's Southern Kitchen.
Join us to dine with the following executives:
Carter Clark, Chief Professional Officer of the Boys & Girls Club of the Midlands
John Dozier, Chief Diversity Officer at the University of South Carolina
Kate Fox, Executive Director of Harbison Theatre at Midlands Technical College
Larry Hembree, Managing Director at Trustus Theatre
Angela O'Neal, Director of Operations at Innersole
Julie Smithwick, Executive Director of PASOs
Kimberly Tissot, Executive Director of Able South Carolina
Thanks to the following sponsors for making this event possible: