There's always a fun event coming up on COR's calendar. COR hosts networking and social events throughout the year to help you continue to grow personally and professionally. In addition to our annual signature event Time for Art, we regularly host Table for Six, Activate, and Connect events. Volunteer opportunities are also ongoing, year round opportunities to be involved.

Volunteer Opportunity: WNM @ First Thursdays on Main
September 1, 2016 @ 5:30 pm

-

9:30 pm

Free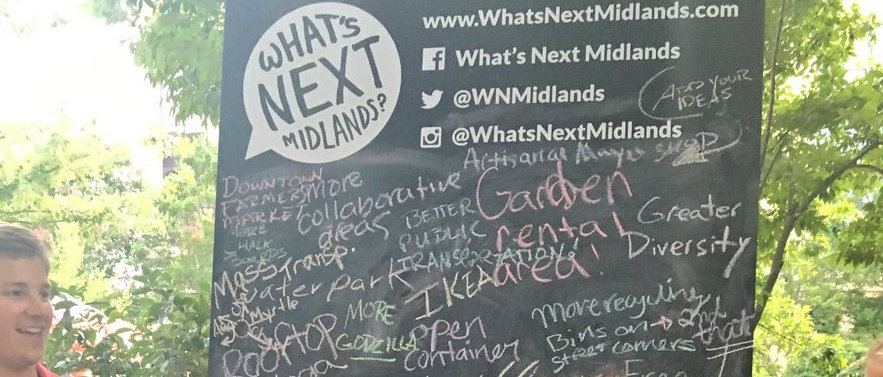 What is What's Next Midlands? 
What's Next Midlands? is a collection point for great ideas to move Columbia forward where anyone anywhere can submit. It is also an online platform to share those ideas with the entire community and to discover others that share your vision. Furthermore, it is a rallying point where ideas, people, talent and capital come together to get stuff done and turn those great ideas into real progress for our community.
Awesome! So how does it work?
Step 1: You can log into WhatsNextMidlands.com in just seconds with your Facebook information and start sharing your ideas and joining the conversation right away.
Step 2: Submit any idea you've been dreaming up, scribbling on the back of a napkin or amongst friends at a bar.
Step 3: While you're on, check out the other ideas. Like them, comment on them, or share them with your social network. Help build momentum for those ideas that you love.
Step 4: Like-minded people find each other as well as organizations with resources and they rally around great ideas to turn them from concept to reality. What's Next helps to accelerate this process with capital and connections and make your ideas a reality.
Looking to get more involved? 
Volunteer with COR and help spread the word! COR is coordinating an army of What's Next Midlands advocates to gather at local community events such as First Thursdays on Main and Soda City Markets to get out there and let people know about this innovative and inspiring way to create positive impacts in our city! From handing out informational pamphlets to getting people to generate ideas and add them to our chalkboard, this is a great opportunity to get out into the community and spark changes that YOU believe in!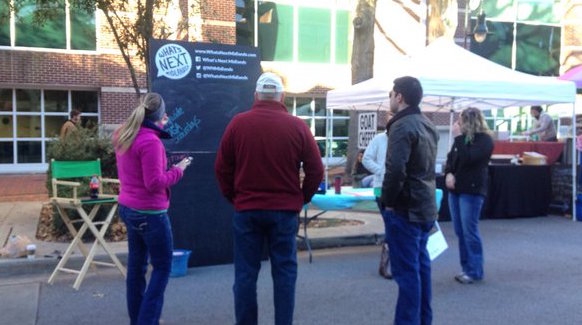 Shifts are between two and three hours and you will be given all the talking points and needed information before you volunteer. Plus, you'll receive a rad What's next Midlands? t-shirt!
Sign up and help us create a more connected community today!