There's always a fun event coming up on COR's calendar. COR hosts networking and social events throughout the year to help you continue to grow personally and professionally. In addition to our annual signature event Time for Art, we regularly host Table for Six, Activate, and Connect events. Volunteer opportunities are also ongoing, year round opportunities to be involved.

Table for Six- "Cola on the Move"
January 11 @ 6:00 pm

-

8:00 pm

$40 – $45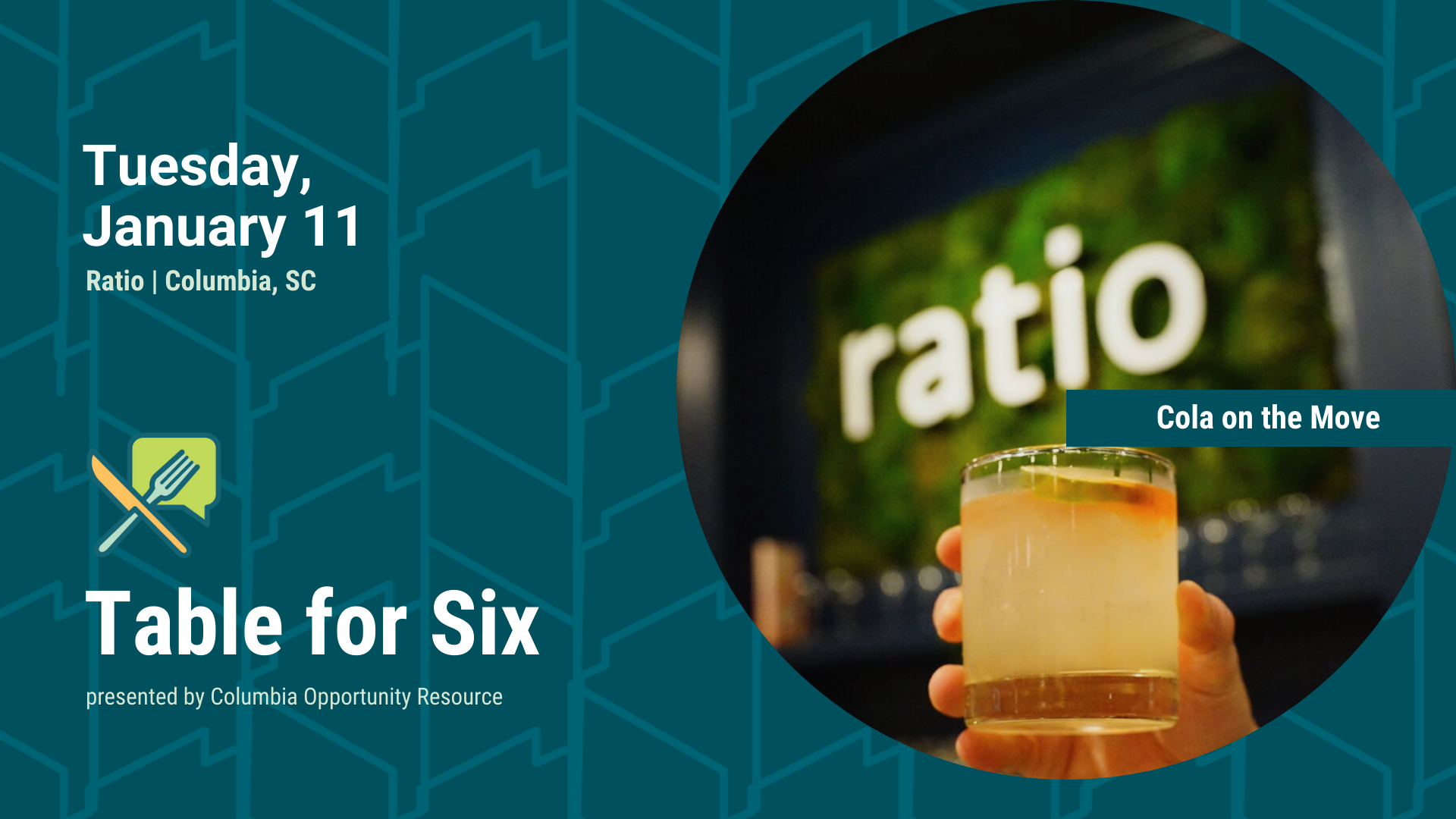 An evening of dinner and conversation around Columbia's growth and future.
Table for Six is a networking dinner hosted by Columbia Opportunity Resource that connects aspiring leaders with seasoned executives and influencers in the community over a shared meal at a local restaurant.  At each table, an established leader hosts five guests and guides discussion on a selected topic.  This event affords guests unique opportunities to build relationships with local persons of influence.
This event will focus on leaders who are helping move Columbia forward and driving growth for our region.
Ratio is an authentic Peruvian tapas restaurant & cocktail bar in Northeast Columbia lead by chef, Javier Uriate.  Dinner will include:
First course – choice of tempura squash, apple salad, or spare ribs
Second course – choice of seco de carne, polla a la Brasa, and tacos de pollo
Tickets include: Two drinks (beer or wine) & dinner | Additional cash bar available
COR members use code "MEMBER" at checkout for discount.
Meet your hosts:
Dr. Aditi Srivastav Bussells is a public health researcher who has dedicated her career to improving programs, systems, and policies that directly impact children's health and well-well-being. She specializes in the topics of adverse childhood experiences (also known as childhood trauma), risk behavior prevention, health communication, and community resilience. Dr. Bussells ran for the at-large seat with the vision that Columbia can be a real destination for families to live, work, and play. By tackling the root cause of crime, bringing more family supporting jobs to the city, and improving the city's infrastructure, Dr. Bussells believes that Columbia can be more prosperous, vibrant, and equitable. Her victory was historic, making her the first South Asian American woman to be elected to Columbia City Council and receiving the most votes out of any candidate running in the 2021 city council election cycle. 
Jeff Ruble is Director of Economic Development for Richland County, where he leads an office responsible for recruiting and growing business and industry for the area including Columbia.  
He has previously served in leadership positions at regional and state-wide economic development groups, including the South Carolina Power Team and Central SC Alliance.  
He is a nationally-accredited economic developer and he's completed post-graduate work at various universities. 
He has served as president of the South Carolina Economic Developers Association, and serves on the boards of Accelerate SC, the I-77 Economic Development Alliance and the Columbia USC Incubator.
Kim Jamieson Crafton 
serves as the Director of Marketing and Air Service Development.  Kim is tasked with setting, managing and executing the overall strategic marketing direction for the airport, while also working to proactively increase air service to the airport.  
A Greenville native, Kim attended the University of South Carolina, where she earned a B.A. in public relations and a Masters in Mass Communications with a concentration in Integrated Marketing Communications.  
In the community, she currently serves as the President of the Board of Trustees for Historic Columbia and is an active member of the Junior League of Columbia. A graduate of Leadership Columbia (class of 2014) and Leadership South Carolina (2015), Kim was also named an "Outstanding Young Alumni" by the University of South Carolina School of Journalism and Mass Communications in 2016; in addition to being one of 
The State's
 20 Under 40 honoree in 2019 and one of Columbia Regional Business Report's Women of Influence honorees in 2020.
Kelly Barbrey has worked for Experience Columbia SC (formerly the Midlands Authority for Conventions, Sports & Tourism) since 2004. Prior to her move to Columbia, Kelly worked for the Athens GA Convention & Visitors Bureau for three years. Kelly holds a journalism degree from The University of Georgia and prior to her work in the destination marketing industry was associate editor for a business and lifestyle magazine in Atlanta and still has a passion for writing. Kelly's favorite thing about working for Experience Columbia SC is feeling a part of the growth and development of our region and inspiring others to take pride in their community.
Dr. Ronald L. Rhames became the sixth President of Midlands Technical College (MTC) located in Columbia, South Carolina, on March 1, 2015. As president, he is MTC's Chief Executive Officer and is accountable to the MTC Commission, the college's board of trustees. Dr. Rhames served as board chair, National Association of College and University Business Officers; president, Southern Association of College and University Business Officers; president, Community CollegeBusiness Officers of the United States and Canada; and president and state representative, Government Finance Officers Association of South Carolina. He is a published author in several academic journals and professional publications.  Dr. Rhames was inducted into the Richland County School District One Hall of Fame in Columbia, SouthCarolina, in January 2017. He was named one of the Fifty Most Influential People in the Midlands of South Carolina, as determined by the Columbia Business Monthly magazine in 2016, 2017, 2018 and 2019, and was inducted into the Fifty Most Influential People in the Midlands of South Carolina Hall of Fame in 2020.  Dr. Rhames was selected as the 1998 International Outstanding Chief Business Officer for Community Colleges by the Community College Business Officers of the United States and Canada.
Susan O'Cain is the Director of Communications at Riverbanks Zoo and Garden. She began her career at the Zoo nearly 11 years ago in February 2011.  Prior to her start at Riverbanks, Susan was employed at WLTX-TV in Columbia. There, she gained 13 years of broadcast experience and quickly moved up the ranks from news editor to news producer to assignments manager.  Susan is a native of Chapin, South Carolina. She graduated from Chapin High School and received a Bachelor of Arts degree in Journalism and Mass Communications from the University of South Carolina.